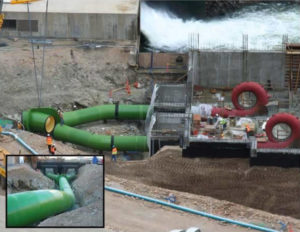 ASCE MOP 79 Chapter 11 Welding Review
ABSTRACT; ASCE MOP 79 Steel Penstock Manual of Practice review of Chapter 11 Welding. The entire Manual was recently updated and this slide presentation provides an overview of the Chapter 11 updates. The actual document is available for purchase at the official ASCE Web site.
ASCE describes this Manual as: "Steel Penstocks stands as a complete guide to the design, installation, and maintenance of the closed conduits between a free water surface and hydroelectric power stations. This new, thoroughly updated edition provides recommendations and technical guidance for all aspects of steel penstocks, including tunnel liners, wyes, and branch outlets. It also provides practical, comprehensive information regarding the economic, safety, and environmental aspects of designing and implementing steel penstocks at hydropower stations. Chapters offer both background commentary and specific requirements, and a final chapter contains 10 worked examples of design problems.
Topics include: design considerations, including economic diameter, shutoff systems, and seismic loads; materials, design criteria, and allowable stresses; exposed and buried penstocks; steel tunnel liners; wye branches and outlets; anchor blocks; appurtenances, bends, and transitions; corrosion prevention and control; welding; manufacture, installation, and inspection; startup; documentation and certification; and maintenance.
Hydroelectric engineers, designers, and facility managers use MOP 79 as the go-to reference for steel penstocks."