Large welded steel fittings and fabrications can offer a unique set of challenges that simply don't have conventional answers. Contractors often struggle in assembling and fitting large steel members in the field due to weight and space restrictions or code compliance. Thicker steel members often have pre/ post heating requirements or dimensional tolerances that are difficult to understand and even harder to achieve. Coupled with the imperfect conditions that are often a side effect of on-site construction, these problems can slow any project to a halt.
National Welding can provide highly specialized or completely custom fitting, heating, and welding equipment to field assemble parts that once appeared impossible. From installing extremely heavy and oddly shaped pieces in very tight spaces to hydraulically or mechanically fitting large steel members and welded connections, National Welding is the asset you need on your team. Follow the link below to see projects that National has completed that required thinking "outside the box."
Related Projects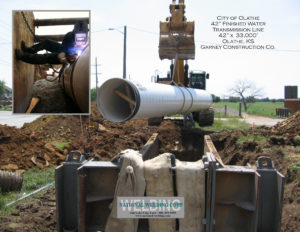 Fitting and Welding steel pipe water transmission line 42″ x 19,000′. Approx 488 joints, plus Butt Straps.
Owner: Kansas Water District #1
Location: Olathe,KS
Date: August 2008 to January 2010