National Welding excels where time is of the essence. High Production Field Welding means installing a high volume of weld metal in a field or jobsite setting. Items to be welded in the field vs. a shop setting require additional consideration for specific safety requirements, out-of-position welding, inclement weather conditions, and access considerations.
When the welding, or portions of the welding, can't be done in the shop because of shipping, moving, installation or other restrictions, it must be done on location. National Welding has the manpower and the equipment to meet the tightest schedules. Your project team requires a company with the experience to get the job done right and on time. If you have a project that requires a large volume of weld metal with a short schedule, give us a call. The link below will show you some projects where production was key and National got it done.
Related Projects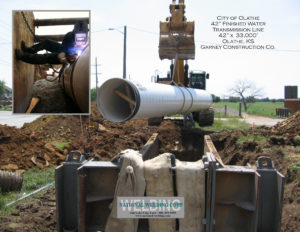 Fitting and Welding steel pipe water transmission line 42″ x 19,000′. Approx 488 joints, plus Butt Straps.
Owner: Kansas Water District #1
Location: Olathe,KS
Date: August 2008 to January 2010