Finding the right ventilation equipment for your project can be tricky. Most blowers and fans only offer a rating of cubic feet per minute (CFM). While theoretically the CFM measurement offers enough information to calculate the required air changes necessary for OSHA compliance, CFM may not account for the force needed to achieve required flow rates due to airflow resistance. Large fans with low horse power often do not have the force needed in a pipeline or tunnel.
National Welding owns and maintains a rental fleet of portable 12,000 CFM, 25 HP diesel ventilation blowers that provide the horsepower to properly ventilate a pipeline where other large fans and blowers fall short. National has years of experience ventilating and working in ventilated pipelines. If you have questions about proper ventilating techniques, bagline or bulkhead placement, or positive vs. negative pressure, we can assist you. If you are interested in renting a ventilation blower for your project give National Welding a call. Click the link below for blower unit information.
PDF Download:
Related Projects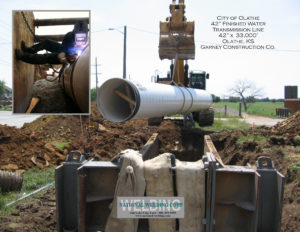 Fitting and Welding steel pipe water transmission line 42″ x 19,000′. Approx 488 joints, plus Butt Straps.
Owner: Kansas Water District #1
Location: Olathe,KS
Date: August 2008 to January 2010