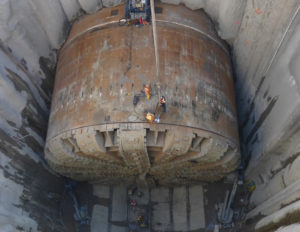 Bertha Tunnel Boring Machine TBM Recovery and Rebuild-WA
ABSTRACT; "Bertha" is the World's Largest Tunnel Boring Machine TBM at 57 Foot Diameter which required recovery and rebuilding during 2015. National Welding Corporation performed the fitting and welding required for the original assembly and the rebuilding. The rebuilding involved to installing 200 Tons of reinforcing steel plates while consuming 33,000 pounds of welding wire. This slide show provides a photographic display of the process and depicts multiple challenges and details of the assembly.
Bertha is a 57-foot-diameter (17.4 m) tunnel boring machine built specifically for the Washington State Department of Transportation's (WSDOT) Alaskan Way Viaduct replacement tunnel in Seattle. It was manufactured by Hitachi Zosen Sakai Works in Osaka, Japan, and the machine's assembly was completed in Seattle in June 2013. Tunnel boring began on July 2013, with the machine originally scheduled to complete the tunnel in December 2015.
On December 6, 2013, work was halted approximately 1,083 feet (330 m) into the planned 9,270-foot-long (2,830 m) route because of unexpected underground pipe. During the investigation it was revealed that portions of the main bearing seal system were damaged, which caused the bearing to overheat during operation.[Over the subsequent two years, a recovery pit was dug from the surface in order to access and lift the machine's cutter-head for repair and partial replacement in 2015.
Bertha resumed tunnel boring in December 2015, but had intermittent delays through to completion which occurred in April 2016. The TBM was then cut apart at disassembly vault at the tunnel's north portal in South Lake Union as the size of the machine and location within the City left no other economical options. WSDOT estimates the new highway will open early 2019 and is estimated to have $223 million in cost overruns which stem from the two-year delay of the machine.