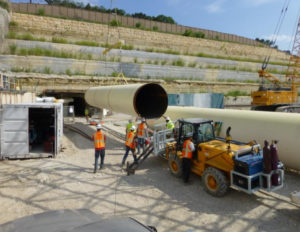 Steel Tunnel Liner 84 inch Dia Lake Travis Austin TX
ABSTRACT; Steel Tunnel Liner 84-inch Diameter under Lake Travis Austin TX. Lake Travis is located northwest of the City of Austin, Texas.  Due to the unanticipated population growth in the area, the Austin Water Plant No. 4 was designed and constructed in the "hill country" to extract water from the lake.  The raw water line is located between the raw water pump station and the water treatment plant-raw water flume. This part of the project consisted of approximately 3,900 L.F. of 84-inch steel water pipe installed in a tunnel.  The installation contractor had concerns that their crews would have fit-up problems with butt-welded field joints due to numerous horizontal curves so the contractor requested alternative solutions. Consequently, the pipe manufacturer and installation contractor worked in cooperation to devise an appropriate jointing system that fit the intended application. The joint was unique in that it allowed for lap welding to be utilized for deep insertion which in turn permitted greater flexibility for installation of the steel liner pipe into the tunnel.
The objectives of this slide show will be three-fold: first to describe the art and engineering of jointing steel pipe (the process of welding steel pipe joints, the differences between butt-welding and lap-welding, beveled joints, etc), followed by a discussion of the design and subsequent redesign of the field joints on this project, and will end with a discussion of the installation process. The paper will discuss these items from both a manufacturer's and an installer's perspective, and will describe the background of what led up to the final design and manufacture of the field-joint supplied.  Changes that took place between the design and approval process and the final installation will also be explained in detail. The contents of this slide show will be useful to Owners of large diameter water transmission systems, Design Engineers, as well as the Construction community.